EMS Training: 21st Century Personal Training
XBody Quickfitness combines Personal Training with EMS,
giving your muscles a deeper and more effective workout in a
fraction of the time.

EMS uses the natural principle of our central nervous system, sending electrical impulses to contract our muscles: muscles are electro chemical organs and need electrical impulses from the central nervous system to contract. In just a 20 minutes workout, your personal trainer will control each muscle group by adjusting the training intensity according to your individual goals – giving your body over 150 times more muscle contractions than a conventional workout. Just ONE workout is equivalent to 3,4 hours spent in the gym! Depending on your level of fitness and goals, your workout may be either extremely gentle – even performed lying down, or highly intense, with strong contractions and dynamic exercises. What was once only possible after years of intense training at the gym is now achievable to almost everyone. EMS training has a therapeutic effect as it promotes a feeling of physical and mental well-being.
Try XBody Quickfitness and feel the difference!
COMPLETE FITNESS SOLUTION
EMS Personal Training is your perfectly complete fitness solution for all - round training; rapidly producing effective, visible results. Body fat is reduced, weight is lost & muscles are gently defined as your physical strength & endurance dramatically increases.
XBody – your all-round EMS trainer
Save time
As all muscles work simultaneously, you'll spend only just 20-25 minutes with training.
Build muscles
The electrodes are placed directly on the body to each important muscle group; so all the impulses reach their target. It's easy, and you can't go wrong.
Relieve back problems
As there are electrodes built into the training suit along the spinal column, those rarely trained muscles get worked as well. So muscles get stronger which can lead to the relief of back problems.
Achieve optimal body fat
Since it is an effective strengthening workout, it transforms how the body uses up calories. It is a very effective tool for weight loss and fat removal.
Relieve joints
The electric impulses work on the muscles directly, there is no pressure on the joints, so they are not over worked – as it is often the case with weight workouts.
Balance out the muscular system
The built in electrodes can stimulate and develop all the muscle groups or just selected ones if desired, so the otherwise 'weaker links' of the body can be strengthened.
Improve your life
Your posture will improve as well as the way you feel: the electric impulse stimulation works on the deeper muscles too.
The blood circulation of the muscular and connective tissues will be enhanced which leads to a firmer, more toned skin. What an effective anti- cellulite treatment. The muscle workout makes bones stronger, so they are more resistant to fractures, and indirectly helps avoid osteoporosis.
e-mail: quickfitness@me.com
phone: 085 165 4296
News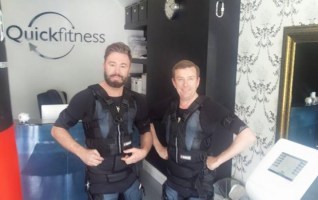 "First day back since my accident. .. this keeps me so fit...exhausted after a 20 min workout..which is equivalent to an hour faffing about in a regular gym"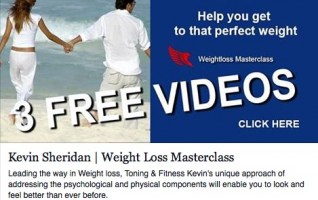 Kevin Sheridan and XBody Ireland working together for success.